2013-11-06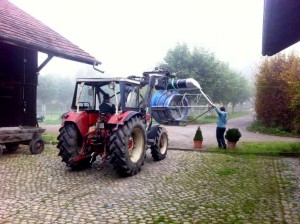 Schwörstadt, 31st of October 2013: Smart Hydro Power´s turbine was installed for the first private German customer in the Rhine River. Not only was the latest submergible version of the turbine installed, but also the company´s new anchoring system. Together with Smart Hydro Power, the customer was able to receive a permit of 20 years, securing his investment and Smart Hydro Power´s first Rhine River location.
Due to the relatively slow flowing waters and high levels of debris in the Rhine River at this location, the submergible turbine was chosen as the most appropriate for the site. Furthermore, the new anchoring system was introduced because of the site´s 10 meter deep water. Although details of the anchoring system cannot yet be revealed, the benefits include such characteristics as low-cost, lightweight, convenient for maintenance routines.
The installation itself was done by two people, within one days´ time and by means of a garden tractor which lifted the turbine into the water after which the turbine drifted into final position. After the water installation was completed, the electrical components were connected to the grid.
In this area, the Rhine River marks the border of Germany and Switzerland and has been thoroughly built up with traditional hydropower plants. Although it won't be possible to produce the maximum amount of power at this site, the customer is happy to support new innovation and committed to providing his location as a test and showcase site for Smart Hydro Power. The company is happy about this latest installation, "This project is a perfect example of how distributed generation by means of kinetic technology can complement traditional hydropower to supply single households with baseload energy," says CEO of Smart Hydro Power, Dr. Karl Kolmsee.