2011-11-28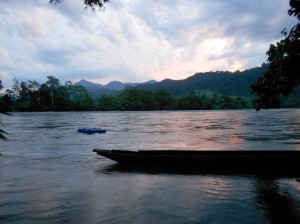 Turbine in the river Huayabamba
Marisol, Peru – On November 10th, 2011 two members of the Smart Hydro Power team installed the first 5kW microhydro turbine in the Rio Huayabamba. The generated electricity will provide power to 28 families in the village of Marisol.
Matthew Oakley, technical director of SHP and Martina Reiser, SHP team assistant and interpreter, had a long journey from Germany into the jungles of the Peruvian Amazon.  Once arriving in Lima, the two spent some days travelling to the remote village of Marisol, while the turbine had arrived much earlier by boat. Together with the engineering team of the San Martin Department of Energy and Mining and some residents of the village, the turbine was secured in the Rio Huayabamba within twoday´s time.
It all began just over one year ago in October 2010, when an official letter of intent was signed between Smart Hydro Power GmbH, GIZ GmbH (Deutsche Gesellschaft für Internationale Zusammenarbeit), and the Federal District of San Martin, Peru. Today, Marisol has their first turbine. Not only will this project provide a dramatic improvement in the quality of life for the residents, but it will function as a reference for sustainable rural electrification for the entire region. The government of San Martin, Peru will use this project towards meeting the goals in their "Regional Plan of Electrification in Rural Areas with Renewable Energies 2010-2014", which is to provide renewable power to grid-isolated communities.
The 5kW turbine will initially provide lighting to households and the school. At a later stage, pending success of the project, the community plans to install further turbines. This project is seen as a great milestone for SHP, marking the successful installation of a turbine in the Amazonian region, the place where the initial idea for the product and company first started.
On December 7th Matthew Oakley will return to Marisol for final electrical installations and for the inauguration ceremony scheduled for the 14th of December.  Expected guests include the Director of the Rural Electrification Department in the Peruvian Ministry of Energy and Mining, Fernando Rossinelli Ugarelli and Rafael Rengifio del Castillo, Director of San Martin´s Ministry of Energy and Mining, along with many other regional representatives of the Peruvian government.