SMART Food Processing Project Empowering Rural Entrepreneurs in Karnataka, India
A project financed by the Wuppertal Institute for Climate Change, Environment and Energy and performed together with Gram Oorja and Sanjeevani Seva Trust
Situation: The village of Bhamane is located in Uttar Kannad district of Karnataka, India. The main occupation of the villagers is farming and their main crop is rice. Before farmers practiced rain fed farming with the activity being restricted to the monsoon months. Availability of power enabled farmers to grow crops during the non-monsoon season, thereby significantly enhancing their incomes. Besides that, people in Bhamane and surrounding hamlets had to travel 20 – 30 km to the next rice mill in order to process the grains. On that account, there was a strong demand from the community for setting up a rice and flourmill at the village.
Technology: Installation of a hybrid system for productive use
SMART Hybrid System (canal turbines + photovoltaic + backup generator)
Twenty-four 2 V batteries connected in series to a total voltage of 48 V and connected to the SMART Energy Management System
Three-phase power supply for rice and flour mill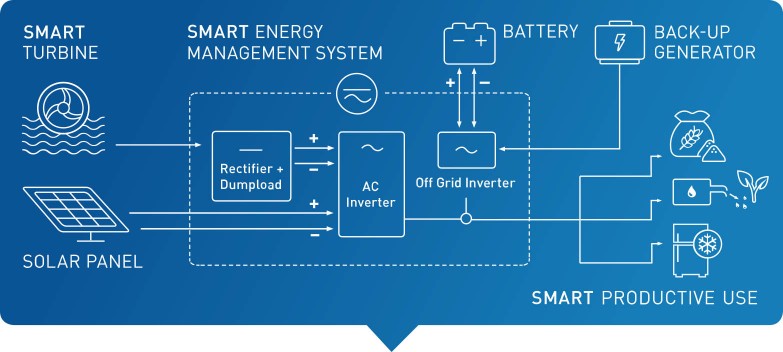 After setting up a micro grid, the system currently supports 34 households with electricity for multiple uses such as battery charging, food processing, street lighting, refrigeration etc.
IMAGES: